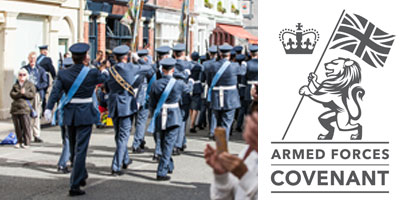 Thursday 26th April 2018
The Covenant Fund is now open for applications for Local Grants up to £20,000 for projects which either support community integration or the delivery of valuable local services to the armed forces community. In recent years projects linked to several RAF units have been successful bringing in tens of thousands pounds in support for RAF personnel and families.
Community Integration
Last year the First Responders Team based at RAF Halton received £19,600 to provide new kit and equipment and hold a commemorative dinner to celebrate the involvement of several personnel at the unit in this fantastic service to the local community. Also last year RAF Scampton Airplay Youth Club received £20,000 to develop its provision and bringing together both children from the unit and the local community.
To be successful Community integration projects should create strong local links between the armed forces community, including service personnel, their families and veterans, and the local civilian community. They should seek to overcome barriers to better integration and improve perceptions, understanding and awareness of the armed forces. Most importantly they shouldn't just be the armed forces doing something for the civilian community or vice versa but demonstrate genuine shared delivery and benefits for both.
Delivery of Local Services
Under the Delivery of Local Services theme RAF Benson benefited from £14,629 for the Oxford Parent Infant Project to support families. Focusing on RAF personnel rather than families the RAF Honington MT unit received £12,800 to deliver an innovative and engaging road safety campaign to its young personnel to mitigate the statistically higher risk of accident, injury or worse caused by road traffic accidents on rural, country lanes.
Delivery of Local services projects should be locally-based initiatives which offer one or more of financial advice, housing, mental and physical health, employability or social support for serving armed forces personnel, families or veterans.
Digital Development Programme
In addition to the core project funding, successful applicants can now receive additional support with social media channels, content and websites and be part of a Digital Academy Network to get ongoing support to best promote their project via the digital platforms.
Applications to the Covenant fund must come from RAF units, registered charities, local authorities, schools, other statutory bodies or community interest companies. Profit-making companies are not eligible to apply. The projects must meet one of the two criteria and must have good local connections to the community to which they will deliver their project.
How can the RAF FF Covenant team help?
Our covenant team have worked with several previously successful covenant projects to provide information about the fund, give advice and feedback on their applications. We have worked closely with the MOD Covenant Fund team for several years, and now the Covenant Fund Trust team. In addition, we sit on the advisory Regional and Devolved Administration panels who's role is to provide feedback on applications to the Covenant Fund team, meaning we are knowledged and experienced in what makes a good bid.
Applications are open now until the end of year. How to apply for a Covenant Fund grant.