Tuesday 9th July 2019
The Puma Force has successfully completed essential pre-deployment training in the Manchester, Merseyside, West Lancashire and Newcastle areas over the past week. Based from RAF Woodvale in Merseyside, Puma helicopters from 33 Squadron have also worked alongside the civilian emergency services and British Army to enhance interoperability.
Operating in an urban environment is a key skill required by the Puma helicopter crews and the training that is provided in the Manchester, Merseyside, West Lancashire and Newcastle areas is invaluable as they are unfamiliar environments for many of the crews. This helps to replicate the unfamiliarity they have with areas in Afghanistan in a safe environment prior to their deployment later in the year.
The Puma Force is currently supporting the ongoing NATO training mission in Afghanistan, with their role dubbed Operation TORAL. They provide life-saving air transport to NATO troops and visiting dignitaries around Kabul. During their pre-deployment training, the Puma crews worked with the British Army and Army Reserves of 4th Battalion The Duke of Lancaster's Regiment to support troops maintaining their familiarity with the Puma helicopter ahead of future operational deployments. Many of the Reservists had never worked with helicopters before so the training conducted was mutually beneficial.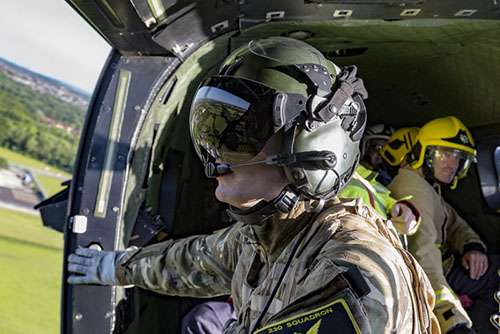 Alongside this role, the Puma Force also hold a National Standby commitment and contingency readiness. This means that serviceable aircraft and experienced crews are on standby to assist in the UK and overseas in any role required, which was recently highlighted when flooding hit Lincolnshire. Supported by the RAF Regional Liaison Officer, the crews worked with local emergency services including Lancashire Fire and Rescue and Lancashire Police to highlight the capabilities of the Puma while also ensuring that, should the need ever arise, the civilian emergency services can operate successfully alongside the Puma Force. This training ensured that civilian teams, such as the Wildfire Tactical Advisors, have advance familiarity of all the assets available to them, which is crucial when responding to an emergency.
Top image: Troops from 2 Yorks Regiment of the British Army conducted training with the Royal Air Force on Exercise Heart Attack which was held in the north west of England.