Monday 25th March 2019
Rewards for Forces shares its offer of providing online and in-store savings for the armed forces community.
Serving personnel and their partners of the Navy, Army, RAF and Veterans, Service Widows/Widowers, Reservists, Cadets, MOD Civil Servants and the Royal British Legion are all welcome to join.
Visiting members of the US & Canadian forces are also eligible to use the website.
It's free to subscribe using the website or you can buy optional identification cards for use in stores.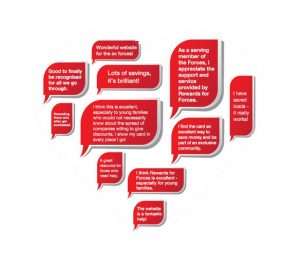 Use your discount for:
Taking the children to a theme park
Going to the cinema
Booking a holiday
Buying a new car
Weekend breaks
No regular internet access? No problem, just call us on 01604 647770 and we can help with joining and purchase our Rewards Discounts Directory for just £4.99 (inc VAT + P&P). It's an archive and go-to source of what we currently have available to members, packed full of discounts from holidays, days out, to motoring and high street offers.