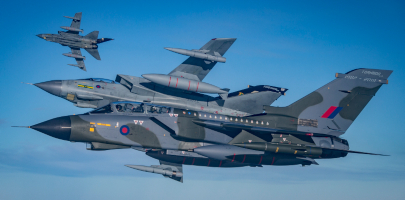 Friday 25th January 2019
The Royal Air Force has released stunning images of a unique aircraft formation to celebrate forty years of service by the Tornado GR4 fast jet.
When the Tornado is withdrawn from service on 31 March it will bring to an end four decades of service during which the aircraft has formed the backbone of UK airpower. Three training variants of the Tornado have received special markings including a camouflage scheme which the Tornado sported in its early career.
Station Commander at RAF Marham, Group Captain Ian (Cab) Townsend who led the formation said:
"I was immensely proud to have led the 'Tail Art' formation, our first event which celebrates the imminent retirement of the Tornado after almost 40 years of service.
"The success of the sortie was borne out of the outstanding Whole Force support at RAF Marham who remain focused on sustaining Tornado operations and are as committed today as they were in 1982 when the first Tornado landed at the Station. "
The Tornado first entered RAF service in 1979, principally in the Cold War nuclear strike and interdiction role. It's combat debut in the 1991 Gulf War heralded a period of near continuous operations which continue to this date.
Some 28 years after those first missions to help liberate Kuwait the RAF's two remaining Tornado squadrons, IX(B) and 31 Squadrons, remain on operations in the Middle East fully committed to the fight against Daesh as part of the Global Coalition effort.
Flight Lieutenant Nathan Shawyer, 27, the last pilot to qualify on Tornado said:
"I wasn't born when the Tornado first entered service with the RAF. It was a privilege to fly on today's training sortie which also captured fantastic imagery of this iconic aircraft. It will be a sad day for all of us when the Tornado shuts down its engines for the last time."
Image: The three specially painted Tornado GR4's flying a unique photographic sortie as part of the Tornado Force farewell to the GR4.