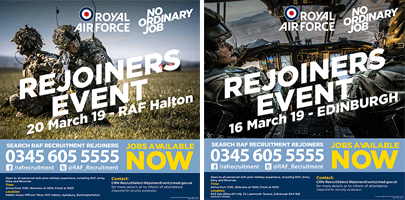 Tuesday 19th February 2019
Following the inaugural Rejoiners Recruitment Event at RAFC Cranwell, Recruitment & Selection are holding 2 further events.
One is in Edinburgh at 603 Sqn (RAuxAF) on Saturday 16th March 19, the second at RAF Halton, Bucks on Wednesday 20th March 19.
These events are open to all personnel with prior military experience, whether RAF, Army, Navy or Reserves.
For further information please see attached posters or contact [email protected].
Click on images below to see full size posters