Friday 22nd March 2019
The Royal Air Force Apprentice of the Year Awards were held at RAF Wittering yesterday (21 March).
Around 3000 apprentices are employed by the RAF on 24 different programmes. 11 outstanding men and women who have completed their own training programmes were recognised as the best and the brightest in a ceremony at the Cambridgeshire station.
Presenting the awards was Air Vice Marshal Warren James, Air Officer Commanding 22 Group and Chief Executive Officer of Royal Air Force Training. The choice of RAF Wittering as a venue for the Apprentice of the Year Awards met with his approval.
Air Vice Marshal James said:
"RAF Wittering is an ideal place to host the awards because what comes out of this Station affects the front line directly. It's a place that relies on training and provides the continuation needed to develop real world skills."
RAF Apprentices need tremendous determination and resolve. Aside from completing their basic military training, they are required to qualify in their chosen trades and then complete additional in-work study at the stations to which they are posted.
RAF Wittering is the home to the specialist engineering and logistics squadrons that support air operations and exercises at home and abroad. The finalists and their families were given a demonstration of the Station's many contributions to the defence of the United Kingdom before the presentations were made.
In 2018 Senior Aircraftman Roz Mills of 5001 Squadron at RAF Wittering was selected as Apprentice of the Year. Although the Station did not have any finalists this time, Senior Aircraftman Megan Hubbard from nearby Wisbech in Cambridgeshire was highly commended in the Communication & Ground Engineering category.
SAC Hubbard said:
"I'm delighted! But really, I just like to know things and have the answer when people ask me questions instead of just sending them to someone else."
Group Captain Tony Keeling, Station Commander at RAF Wittering, joined the Royal Air Force as an Apprentice himself. He said:
"It gives me great pleasure to congratulate all our winners today. Having started my own career as an Apprentice, I have benefitted from the outstanding training and employment opportunities offered by the Royal Air Force."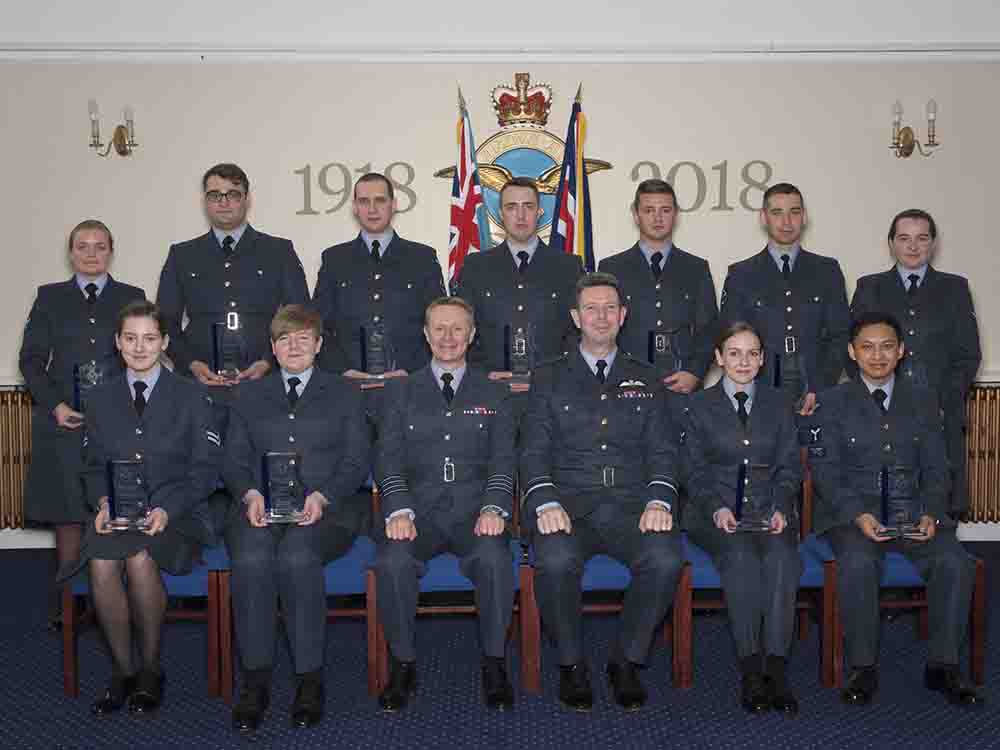 © Crown Copyright 2019 – story image from left to right: Wing Commander Mike Ainsworth, AVM Warren James, Flight Sergeant Dave Hughes