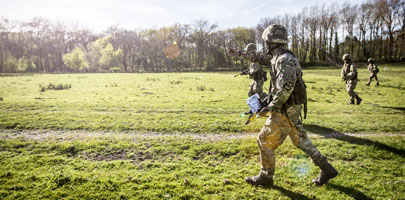 Thursday 12th December 2019
The Black Country Chamber of Commerce has announced a national programme of support for the Armed Forces Covenant.
The announcement comes following the Black Country Chamber of Commerce's successful bid to the Forces in Mind Trust (FiMT) from which they have been awarded funding to deliver a package of support that provides all Chambers of Commerce across England & Wales with the tools, knowledge and understanding to effectively promote the value of the Armed Forces Covenant to business.
With the full backing of the British Chambers of Commerce the project, 'Chamber of Commerce Military and Business project' to be known as Chamber Military Network, seeks to improve knowledge and understanding within organisations of the covenant and the business benefits of recruiting from the Armed Forces Community, through the development of marketing support packages, mentoring and engagement opportunities on a national scale. Working with Defence Relationship Management (DRM), the Black Country Chamber of Commerce team will directly engage with British Chamber's, their business members and the wider Armed Forces Community to encourage a proactive approach to carrying out covenant pledge commitments, increase the profile of the Armed Forces Community in business and connect military-owned businesses with commercial opportunities.
Ray Lock CBE, Chief Executive of Forces in Mind Trust, said: 
"Our previous research has shown that there are many organisations who wish to support the Armed Forces Community but do not know how to do so. This project seeks to address this gap in knowledge by utilising the networks of the British Chambers of Commerce to promote a better understanding of the Covenant and better delivery of Covenant pledges." 
To date more than 4000 organisations have signed the Armed Forces Covenant including businesses and charities nationwide. The scheme will see Chambers and their members undertake the signing of the Armed Forces Covenant and deliver their employment pledges as part of the Defence Employer Recognition Scheme (ERS).
Speaking at the annual CEO briefing (4th Dec) Corin Crane Chief Executive, Black Country Chamber of Commerce said:
"The Black Country Chamber of Commerce team has over the years gained a wealth of experience in developing and encouraging engagement between military and business communities. We have been able to develop a 'blueprint' approach to how the Chamber of Commerce can effectively support the aims of the covenant and we have directly seen the  benefit it can have on the well-being of the whole Armed Forces Community, in particular to Veteran's, Reservists and spouses of serving personnel. We aim to transfer this knowledge and understanding into a consistent package of support which can be rolled out on a national scale, we are delighted to have been awarded the funds to do this by FiMT and to be given the opportunity to further develop our support for the Armed Forces."
David Riches, Spokesperson for the British Chambers of Commerce, said:
"The British Chamber of Commerce is well-placed to support the Armed Forces Covenant and act as a conduit between business and the defence community. As the only organisation that helps British businesses to build relationships on every level, we want to encourage engagement throughout our network with the military community, we are grateful to FiMT for their support."
Top image ©Crown Copyright