Tuesday 10th September 2019
The Royal British Legion has launched a unique exhibition which brings to life the powerful and poignant stories behind the tattoos of people in the armed forces. Tribute Ink showcases how the military community commemorate comrades and loved ones who have paid the ultimate sacrifice whilst serving their country through their tattoos. The exhibition explores how serving personnel also use the art of tattooing to mark their service, achievements and sense of belonging to the Navy, Army and RAF.
Curated in partnership with the National Memorial Arboretum and The Ministry of Defence, Tribute Ink opens to the public on Friday 13th September on site at the Arboretum.
Head of Armed Forces Engagement at The Royal British Legion and former Household Cavalry Officer Alex Owen, said:
"The sacrifices made in the armed forces, big and small, are ones that come to define you. The Royal British Legion's Tribute Ink exhibition aims to uncover some of the inspiring modern stories of Remembrance living on the skin, and in the hearts, of our servicemen and women today. From the most elaborate full body coverage to the tiniest tribute to a fallen friend, Tribute Ink aims to offer a glimpse into the comradeship, bravery and sacrifice of our armed forces community."
The striking images in the exhibition are designed to immerse visitors in the powerful personal stories behind the tattoos. Renowned Photographer Charlie Clift was given unprecedented access to military inspired locations to capture service personnel and veterans. These ranged from RAF Aircraft Hangars to the decks of Royal Navy vessels, British Army Assault courses to barrack blocks.
He said:
"Diving into the lives of the many forces members and veterans I photographed was an honour. Their stories are important, and I was eager to do everything I could to help tell them. The project has changed my perception of remembrance completely – it doesn't have to be done in silence on a sombre Sunday, people can remember in a million different ways. I hope my pictures can help honour those who serve and encourage others to remember in new ways."
Alongside Clift's photographs are life-sized replicas of some of the tattoos, which have been meticulously transferred onto 3D sculptures.
One of those featured is veteran Craig Daniel, 29, who was a Senior Aircraftsman in the Royal Air Force and completed two operational tours of Afghanistan with the RAF Regiment. He was on his third deployment when he was injured by a blast and was medically discharged due to his injuries. The tattoos on his legs tell stories of his service and remember the sacrifices that he and others made.
Craig said:
"For me, my tattoo is a visual memory of my time in service, allows me to commemorate those I lost along the way and reminds me of how lucky I am to be here today. Remembering isn't just one day and I see my tattoo as my own symbol of Remembrance."
Tribute Ink features four key themes; Rethinking Remembrance, Remembering the Fallen, A Badge of Belonging and Marking the Memories.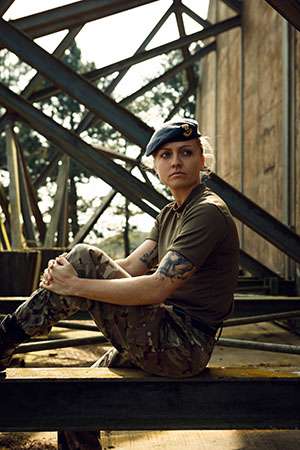 Chris Ansell, Arboretum Interpretation and Exhibitions Officer at the National Memorial Arboretum said:
"At the National Memorial Arboretum, we facilitate Remembrance in all its guises and exhibitions are becoming an increasingly important part of how we interpret the important human need to remember. Our exhibitions programme is enjoyed by thousands of visitors each year and we are delighted to be launching Tribute Ink here at the UK's centre of Remembrance."
People are invited to upload their own images of their tattoos and share the stories behind them via the Legion website and social media using #tributeink
The Legion provides life- long support to the armed force community, like those featured in Tribute Ink, from service personnel to veterans and family members, and is encouraging the general public to visit the exhibition to find out more. It's free of charge and will tour the nation from January 2020 which will include public museums and galleries, train stations and military bases. Full tour dates are available.
Top image: Craig Daniel