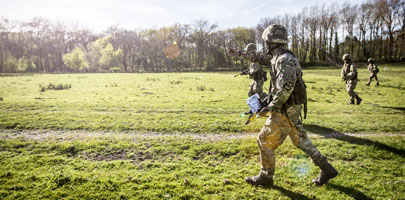 Thursday 10th October 2019
Members of the RAF community will benefit thanks to ICAP, part of TP ICAP group, the world's largest interdealer broker, choosing to support the Royal Air Forces Association for their annual Charity Day event on 10 December 2019.
ICAP Charity Day raises money for charities across the globe, with 100 per cent of the revenues and commissions generated by the company on that day being donated to a variety of causes. Twenty seven ICAP offices were involved in 2018, raising £4.5 million globally.
Last year, Her Royal Highness The Duchess of Cornwall took part in the event alongside a host of celebrity ambassadors and patrons in London, including actor Chiwetel Ejiofor, model Suki Waterhouse and TV personality Keith Lemon. Actors Michael Douglas and Forest Whitaker joined employees to raise money in New York.
Nick Bunting, Secretary General for the RAF Association said:
"We are very excited to have been chosen as one of the organisations to benefit from this year's ICAP Charity Day. ICAP's generous support will make a very tangible impact on the lives of the people we support."
The ICAP funding will enable the Association to provide mental health training for RAF veterans and the families of RAF veterans and serving personnel in order to raise awareness and reduce stigma.
At the heart of the campaign will be a specially-designed training course, created (in partnership with the RAF's Robson Academy of Resilience) to meet the specific needs of the RAF family.
Nick Bunting explained the rationale behind the initiative:
"Evidence shows that mental health training raises learners' awareness of mental health conditions, including their signs and symptoms. Those trained have a better understanding of where to find information and professional support and are more confident in helping individuals experiencing a problem or crisis."
According to the World Health Organization, approximately one in four people will experience poor mental health each year. In England, one in six people report experiencing a common mental health problem (such as anxiety and depression) in any given week.[1]
The incidence of mental health issues among serving and veteran military communities is broadly similar to that of the general population, but some negative attitudes regarding mental ill health are higher among the military community[2].
A study by Iversen et al, 2011[3] reports: "Previous studies from both the UK and the US have suggested that stigma and lack of trust or confidence in mental health providers are leading barriers to help-seeking in Service personnel. It is well documented that an individual's beliefs about how they will be perceived by others if they present with a mental health problem are powerful determinants of the likelihood of help-seeking should they become unwell."
Nick Bunting said:
"The military are working hard themselves to reduce stigma through raising awareness of mental health issues. The ICAP funded RAF Association project will seek to complete the circle by further strengthening the support available to the veteran and serving RAF family community".
---
[1] McManus, Bebbington, Jenkins and Brugha, 2016
[2] (68.0% [65.7%-70.1%] of the general population in England agreed that "People with mental illness have the same rights to a job as everyone else," vs. 56.7% [51.5%-61.7%] of the military (Harriet et al. 2013)
[3] ncbi.nlm.nih.gov/pmc/articles/PMC3048487/
Image: © Crown copyright 2017