Tuesday 10th March 2020
On 10 Apr 20 Flt Lt Dan Garner (38) will attempt to flip a 100kg tyre for over 20km within 24 hours in support of the Cancer Wards at Nottingham University Hospitals Charity. Dan originally from West Bridgford, Nottingham, is currently working as Operations Officer on 1 Sqn RAF Regiment, RAF Honington. The attempt will take place at the Victoria Embankment near Trent Bridge, Nottingham. Dan has now been in training for 5 months and has completed flipping a 138kg tyre around the length of the Donington Park Race Circuit (4km) and the Cadwell Park Race Circuit (3.6km) which took 6.5 hours and 4.5 hours respectively.
Dan said:
"I am undertaking this training and the 20km effort to raise funds for the Cancer Wards at the Nottingham University Hospitals Charity. Nottingham Hospitals are stretched and operating at capacity. They need our help and cancer touches almost everyone in the City. I am also hoping to inspire people to believe that by training hard for 6 months you can achieve any physical goal that you set yourself"
Donations can be taken on the day or if you would like to donate please visit Dan's Instagram bio @The_Ultimate1_ and or follow link to his Just Giving page.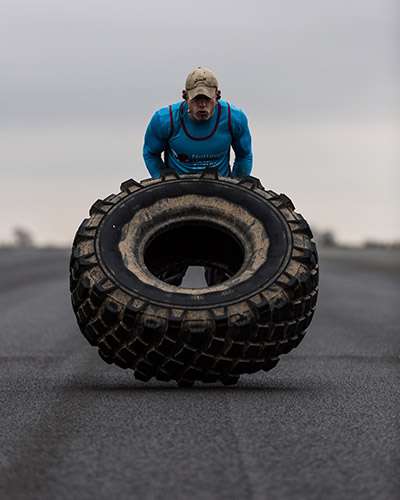 All images are MOD Crown Copyright