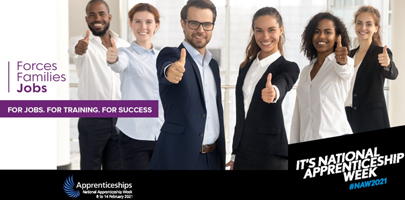 Monday 8th February 2021
Forces Families Jobs (FFJs) offers more than just job vacancies. This week is National Apprenticeship Week and here we celebrate a selection of apprenticeships that are available to you as a military family.
The team at FFJs has been in touch with the employers registered (all of whom have signed the Armed Forces Covenant and pledge to be 'forces friendly') to find out how many of them run apprenticeship programmes and you can find those within our Training and Career Support section online. So if you are looking for a career change, or are a son/daughter looking for your first step into the world of employment, FFJs is here for you.
Benefits of an apprenticeship*
Apprenticeships are an exciting option – you get hands-on training and also the chance to put your skills into practice.
What you'll earn
What you earn will depend on the industry, location and type of apprenticeship you choose.
If you're aged 16 to 18 or in the first year of your apprenticeship, you're entitled to the apprentice rate.
If you're 19 or over and have completed the first year of your apprenticeship, you're entitled to the National Minimum Wage.
This is the minimum you'll earn – many employers pay a lot more and offer their apprentices a competitive salary.
What it costs
Apprenticeships are funded from contributions made by the government and your employer. This means you will not have any student loans or tuition fees.
You'll just need to cover the cost of your day-to-day expenses, such as lunch and travel.
If you're 16 to 24 and a care leaver, you'll receive a £1,000 bursary payment to support you in the first year of your apprenticeship.
Follow or browse the free-to-use website #ForcesFamiliesJobs
Get the latest information delivered to your inbox 
This story comes to you as part of the RAF FF's themed months over January and February on all things relating to careers and finance. You can keep yourself up to date with ongoing information and advice shared by signing up to our (free) weekly eBulletin and our quarterly Envoy magazine.
*Source: HM Apprenticeships