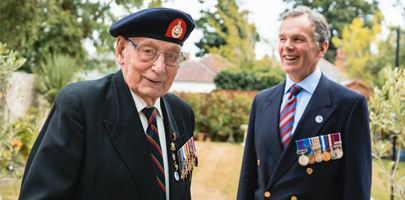 Saturday 15th August 2020
SSAFA, the Armed Forces charity has found that 46% of Brits have no idea what VJ Day is – ahead of the 75th anniversary of the milestone date
Sadly, over half (52%) of those that previously did not know what VJ day is stated that they are not likely to do/feel anything to remember VJ Day, even after discovering what the day marked
SSAFA, the Armed Forces charity is calling on the public to learn about the true end to WWII, as Victory in Japan Day is commemorated 75 years on
This year marks the 75th Anniversary of VJ Day – and SSAFA has revealed that 46% of those surveyed do not know what this acronym stands for. Over half (52%) of those that previously did not know what VJ day is admitted they would not do/feel anything to remember VJ Day, even after discovering what the day marked.
VJ Day, short for Victory over Japan, is marked on August 15 to remember the day when Japan's surrender in the Second World War was announced, effectively ending the war completely in 1945. Many people wrongly assume that VE Day was the conclusion – leading to those who carried on fighting in the East to refer to themselves as the 'forgotten Army'.
Of the 46% who said they did not know what VJ Day is, just 5% said they would celebrate it every year after discovering what the day marked, and over half (52%) said they were likely not to do or feel anything towards the anniversary after finding out what it stood for. It seems that this key date is slowly being erased from British history.
Concerningly also, when asked which countries took part in the Second World War, just over a quarter (26%) could name China, even though the country played a role in supporting America and the Soviet Union against Japan.
What's more, only 60% of those surveyed knew that Japan participated in the Second World War and of those who were aware that Japan participated in World War II, just under half (49%) did not know* when Japan ended their involvement in the war.
Sir Gary Coward, Chairman of SSAFA, the Armed Forces charity, said:
"We should all be aware of our national history, especially when associated with an unrelenting campaign and huge sacrifice. VJ Day marks such an event. This year, we remember 75 years since the day Japan surrendered, in effect bringing the Second World War to a final conclusion.
Many people celebrate Victory in Europe Day, but very few acknowledge or know about Victory over Japan Day. Thousands of Allied Soldiers, Sailors and Airmen remained incarcerated in horrendous conditions and their many colleagues continued to fight bitter battles for freedom in the Far East well after VE Day. Without their supreme sacrifice, life would be very different to what it is now. On this 75th Anniversary, we ought to take a moment to reflect on this and try to learn the lessons of this key moment in history. The huge losses on all sides must not be forgotten.
In SSAFA, our forebears dealt with the aftermath of that conflagration and to this day, we continue to support the dwindling number of survivors and their families. We were there then and will remain so while the need is there."
SSAFA is calling on the British public to celebrate those who served during the Second World War, particularly those who continued the fight after Victory in Europe Day. The charity supports serving personnel, veterans and their families during times of hardship, providing practical, financial and emotional support when needed.