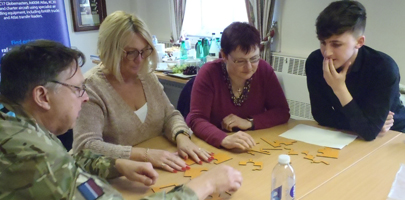 Friday 8th March 2019
4624 Squadron recently hosted a visit to RAF Brize Norton from Interserve and Royal Mail. Held in February, the event was arranged to showcase what its Movements' personnel undertake while training over their weekends in support of Defence operations. It was also an opportunity to understand employer issues and concerns, especially the impact of mobilisation in the workplace.
The day started with an overview from OC 4624 Squadron, Wing Commander Bev Peart, of not only the squadron's role but the meaning of 'Movements'. This set the scene for their visit to the Air Movements Squadron where they received a tour of the sections where squadron personnel work alongside their Regular RAF counterparts. This included visiting Cargo, Traffic and the Passenger terminal and enabled their reservist employees to explain and share their experiences of working in each area.
The airside visit concluded with a guided tour of the A400M, one of the current aircraft squadron personnel load and unload on a regular basis. Some healthy competition then ensued during a visit to the C130 simulator where they received the opportunity to perform take-off and landing manoeuvres – some more successfully than others!
A working lunch considered current and emerging issues facing employers. It was an open discussion which discussed the effect of mobilisation on an organisation, bringing out some valuable points and highlighting the need to keep employers informed of what their employee undertakes while at the squadron.
The final element of the day focussed on the tangible benefits reservists take back to their civilian employment such as Leadership, Communication skills and Team Working. Lead by the squadron's Warrant Officer, Gary Searles, this is delivered squadron-wide as part of the annual Through Life Development Programme. A blend of table-top and practical exercises, it enables individuals and teams to enhance their personal and professional skills. Attendees experienced a few of the many tools utilised by the squadron to meet this objective.
Royal Mail Manager James Godolphin said: "At Royal Mail we feel proud to support the Armed Forces. I work closely with Ian McAndrew (our reservist) to make sure that he is released for his training and placements. I knew little about his work for the RAF before I visited Brize Norton; I now have a better understanding of the work performed by reservists and the very important role that they undertake. The base visit was very informative and certainly hands on. It was definitely an eye opener for me."
Interserve Manager Mark Hill added: "From my perspective the day was well received and very informative. Having worked closely with reservists for years across various business streams I never really understood exactly what they did and how integral they are to supporting the Armed Forces. The day opened my eyes to how reservists are taught different skills that bring additional benefits to employers. I can't wait for another opportunity to visit."
Imagery © Crown Copyright