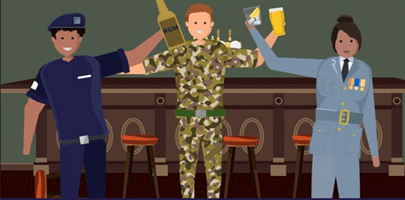 Monday 1st April 2019
Leaving the Royal Air Force impacts both the family and Service leaver. The sooner you can think about your life on civvy street (housing, finances, employment, education, physical health and mental wellbeing) the better, and preferably plan early before leaving.
The transitional period between activating your "7 clicks to freedom" to handing in your Military ID card on your final day in the Armed Forces can be an unsettling time for any service leaver, but what about the impact it has on your family?
Research conducted by the tri-service Families Federations which was funded by the Forces In Mind Trust, highlighted that although the whole family, not just the service leaver, is affected by the transition, many are unaware of the wide range of support available. Veterans' Gateway provides a first point of contact for veterans and their families who are in need and there is a wealth of experts who can help with the resettlement process.
This month Veterans' Gateway is launching a 'Plan Early' campaign to raise awareness of the help and advice available to families leaving the military to assist them through this change.
The service provides a full range of support 24/7, 365 days a year, via online chat, text and helpline with advisors like Chris, who are on hand to assist. As a veteran himself, Chris served in the RAF for 10 years before being medically discharged. It took him a long time to settle back into civilian life.
"I've been in the same position as many of the people contacting us, so can use my personal experience to point them in the right direction for the best help."
Working with our network of over 30 military and non-military organisations, VG can refer veterans and their families to the right support, fast.
Transition can feel like the biggest burst of "life admin" you'll ever experience, but planning early and breaking it down into manageable steps with Veterans' Gateway could make the journey easier. You and your family can then start enjoying new opportunities that life can bring after a career in the military.
Whether it's a simple question or a situation which requires specialist support, Veterans' Gateway is there.
Call: 0808 802 1212
Visit: veteransgateway.org.uk
Text: 81212
Twitter @VeteransGateway
Facebook: Veterans' Gateway
See also: Transition