Tuesday 8th January 2019
Service personnel with children in state schools in England have until 17 January 2019 to notify schools of their children's eligibility for the Service Pupil Premium (SPP). We have also added here some additional places to go to for information – all aimed at supporting your sons and/or daughters whilst at school.
Service Pupil Premium
The Department for Education introduced SPP in April 2011 in recognition of the specific challenges children from service families face and as part of the commitment to delivering the armed forces covenant.
State schools, academies and free schools in England, which have children of service families in school years Reception to Year 11, can receive the SPP funding. It is designed to assist the school in providing the additional support that these children may need and is currently worth £300 per service child who meets the eligibility criteria.
Eligibility criteria
Pupils attract the SPP if they meet the following criteria:
one of their parents is serving in the regular armed forces
they have been registered as a 'service child' in the school census at any point since 2011
one of their parents died whilst serving in the armed forces and the pupil receives a pension under the Armed Forces Compensation Scheme or the War Pensions Scheme
pupils with a parent who is on full commitment as part of the full time reserve service are classed as service children.
The purpose of the Service Pupil Premium
Eligible schools receive the SPP so that they can offer mainly pastoral support during challenging times and to help mitigate the negative impact on service children of family mobility or parental deployment.
Mobility is when a service family is posted from one location to another, including overseas and within the UK.
Deployment is when a service person is serving away from home for a period of time. This could be a six to nine month tour of duty, a training course or an exercise which could last for a few weeks.
The guide below (click on image) shares examples of good practice on how SPP is used: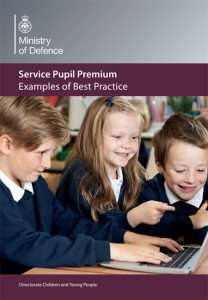 How Service Pupil Premium differs from the Pupil Premium
The SPP is there for schools to provide mainly pastoral support for service children, whereas the Pupil Premium was introduced to raise attainment and accelerate progress within disadvantaged groups.
Schools should not combine SPP with the main Pupil Premium funding and the spending of each premium should be accounted for separately.
Source – and additional information available on GOV.UK
This above section contains public sector information licensed under the Open Government Licence v3.0.
Additional resources
Downloadable guides
Downloadable guides 'Support for Service Children' are available by the Royal British Legion. The guides share examples of good practice from across England and Wales, and recommend ways in which local authorities, schools and families themselves can improve Service children's experience in education (English and Welsh versions available).
Online reference
The RAF FF also has an online education section which provides advice and links to all sorts of information and resources available to you as an RAF family. There is also deployment support available to children within our families section.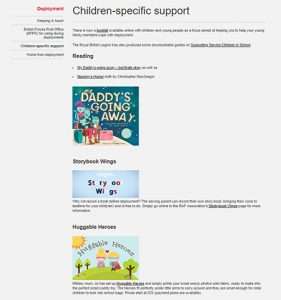 SPP – Part of the commitment to delivering the Armed Forces Covenant   Image: © Crown Copyright